Cuisinart GR-5BC Griddler Five
Model:
GR-5BC
Meet one of the most versatile Griddlers on the market, equipped with reversible plates and a floating cover. Turn this single appliance into a grill, griddle, contact grill and panini press! You can even position plates to do half grill/half griddle! The digital display makes it easy to program options and monitor timing. Additionally, you can purchase Waffle Plates to bake deep-pocketed Belgian waffles!

FEATURES
Five cooking options in one: contact grill, panini press, full grill, full griddle, and half grill/half griddle
Sleek and contemporary design
LCD display
Removable, reversible and non-stick plates are dishwasher safe
User-friendly digital controls
Brushed stainless steel housing
Stainless steel control panel
SPECS AND MANUALS
UPC Code: 068459180971
Unit LxWxH: 8.50" x 16.00" x 13.75"
Unit Weight: 12.60 lb
Box LxWxH: 18.25" x 17.00" x 14.50"
Warranty: Limited 3-Year Warranty
RECIPES
Recipe submitted by: Truffles On The Rocks
Ingredients:
500 gr ground beef AAA
2 Brioche rolls or your favourite burger bread buns
6 Slices of bacon
2 Tablespoon Maple syrup
4 Slices Swiss cheese
Red onion
Lettuce
2 Eggs
1 teaspoon of olive oil
Fine sea salt and black ground pepper
Mayonnaise:
1/3 cup Homemade mayonnaise or commercial
Sriracha sauce to taste
1 Tablespoon maple syrup
Finely chopped chipotle pepper to taste
Instructions:
1. If you prefer your burger rare, allow the meat to temper at room temperature for about 45 minutes.
2. Make two patties with the meat. Season with fine sea salt and black ground pepper.
3. Turn on the Cuisinart Griddler. Select Grill and set to 400 Farenheit.
4. Once preheated, put the bacon slices on the grill plate and cook until cooked through. Remove majority of the cooking fat.
5. Add the maple syrup and glaze the slices.
6. Take off heat and set aside.
7. Cook the beef patties in the remaining bacon fat and maple syrup. Cook for about 3 minutes on each sides for a rare burger.
8. While cooking, mix all the ingredients together for your spicy mayo.
9. When the meat if almost cooked, put the buttered buns on the griddle plate face down. Cook until lightly crisped.
10. One minute before taking the meat off the grill, add two slices of cheese on top of each beef patties and let them melt.
11. While dressing your burgers, cook the eggs sunny-side up on the griddle plate with a teaspoon of olive oil.
12. When ready, top your burgers with the eggs and serve.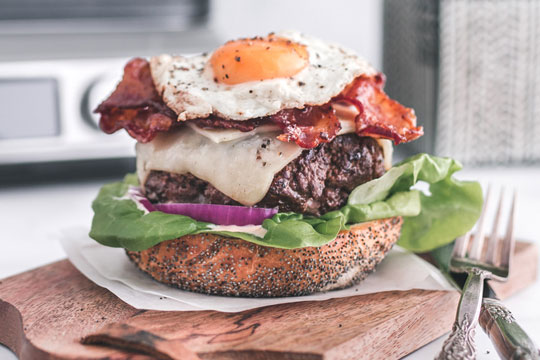 This French-style burger is rich and delicious.

Plate Side: Bottom Grill, Top Griddle
Griddler Cooking Position: Open and flat
Ingredients:
1 yellow onion, thinly sliced
2 tablespoons (30 ml) olive oil, divided
1¼ teaspoon (6 ml) salt, divided
¼ cup (60 ml) water
4 brioche rolls
24 ounces (680 g) ground beef
½ teaspoon (2.5 ml) freshly ground black pepper
4 slices Gruyère cheese
Instructions:
1. Combine the onion slices, 2 teaspoons (10 ml) of the oil and ¼ teaspoon (1 ml) of the salt in a bowl. Turn on the Cuisinart Griddler. Select Grill and set to 425°F (220°C).
2. Once preheated, put the onions on the top plate of the Griddler. Set the count-up timer and cook for about 20 minutes, until onions are soft. Once the onions are soft, add 1 teaspoon (5 ml) of the water to the onions and stir until water evaporates. Repeat until onions are very soft and caramelized, about 10 more minutes, until all water is used.
3. While the onions are cooking, put the buns on the grill plate face-down. Cook until lightly crisped, about 2 to 3 minutes. Set aside.
4. When the buns are toasted, form the ground beef into 4 even-sized patties, 6 ounces (180 g) each. Sprinkle both sides evenly with the salt and pepper. Brush with the olive oil.
5. Add the burgers to the bottom plate, and cook until desired doneness. Top with cheese and transfer to the grilled bottom buns. Top the burgers with the onions, buns and serve.
Nutritional information per serving (1 burger): Calories 638 (60% from fat) • carb. 25g • pro. 39g fat 43g / sat. fat 16g • chol. 133mg • sod. 1064mg calc. 182mg • fiber 1g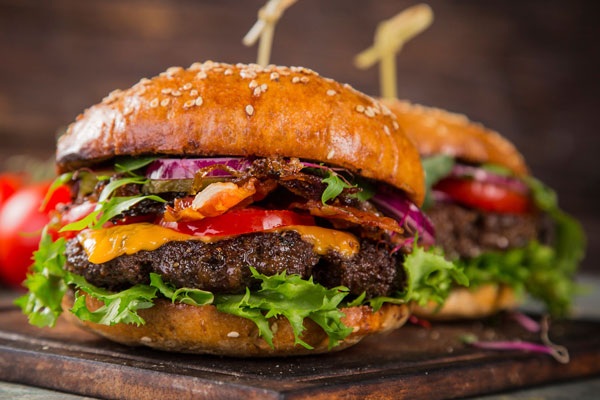 Packed with protein and studded with colourful, vitamin-rich veggies, this burger will be a hit among meat and non-meat eaters alike. A Cuisinart Food Processor will make the prep quick, but it can easily be prepared by hand.

Plate Side: Griddle
Griddler Cooking Position: Open and flat
Ingredients:
1 tablespoon (15 ml) olive oil, plus more to brush plates
2 garlic cloves, finely chopped
¼ medium to large onion, finely chopped
½ teaspoon (2.5 ml) kosher salt, divided
Pinch freshly ground black pepper
1 can (15 ounces [425 g]) black beans, drained and rinsed
½ chipotle pepper in adobo, chopped, plus 1 teaspoon (5 ml) adobo sauce
½ cup (125 ml) water, divided (this is approximate, you may not need the entire amount)
1 cup (250 ml) cooked quinoa
½ cup (125 ml) diced carrot
½ cup (125 ml) diced zucchini
¼ cup (60 ml) chopped fresh cilantro
6 hamburger buns
1 avocado, sliced
Instructions:
1. Put the oil in a medium sauté pan set over medium heat. Once hot, add the garlic, onion and ¼ teaspoon (1 ml) of salt and pepper. Sauté until softened and fragrant, about 5 minutes. Add the black beans, chipotle and sauce, and enough water to keep the pan from being dry. Cook until beans are soft enough where they can be easily mashed, about 10 minutes, adding additional water as needed to prevent the pan from going dry.
2. Once beans are soft, add the remaining salt, quinoa, carrot and zucchini. Add additional water, about 2 to 3 tablespoons (30 to 45 ml), stir, partially cover and reduce heat to medium-low and cook until vegetables are just slightly cooked, about 5 minutes.
3. Transfer mixture to a Cuisinart Food Processor fitted with the chopping blade. Add the cilantro and pulse 4 to 5 times to slightly mash the mixture.
4. Turn on the Cuisinart Griddler. Select Griddle and set to 375ºF (190°C).
5. While Griddler is heating, form burger mixture into 1/ 3-cup (75 ml) patties (the mixture may be too warm to handle. If that is the case, then allow to rest until slightly cooled).
6. Once preheated, brush the plates with additional oil and put the prepared patties onto the hot, oiled griddle. Select the count-up timer and cook 3 minutes per side. Brush the tops with additional oil and allow to cook until bottoms are golden brown and the burger is just getting firm, about 3 to 4 minutes. Carefully flip and cook on the other side for another 3 to 4 minutes.
7. To serve, put on a bun and top with sliced avocado. Serve immediately.
Nutritional information per burger: Calories 236 (25% from fat) • carb. 36g • pro. 8g • fat 7g sat. fat 1g • chol. 0mg • sod. 410mg • calc. 87mg fiber 5g
VIDEOS