Cuisinart SSL-100EC Prepexpress Slicer, Shredder & Spiralizer
Model:
SSL-100EC
Cuisinart continues to simplify food prep with the new PrepExpress Slicer/Shredder/Spiralizer. Now it's easier than ever to make fresh fruits and vegetables part of everyday meals that even kids will love. This 3-in-1 kitchen helper lets you effortlessly create wide ribbons or crinkle-cut spirals of fresh zucchini and apples, and thin or wide butternut squash or beet "spaghetti." Slice cucumbers for salads, waffle cut potatoes for chips, and create thick or thin shreds of veggies for fajitas. Cuisinart makes it easy for everyone to eat healthy!
FEATURES
3-in-1 food processor produces 8 different cuts of food
8 cutting options include: ribbon, crinkle ribbon, thin spaghetti, wide spaghetti, slice, crinkle slice, thin shred, wide shred
5-cup (1.2 L) work bowl
4 dual-function cutting cones included
SPECS AND MANUALS
UPC Code: 068459172174
Unit LxWxH: 7.15" x 10.75" x 15.3"
Unit Weight: 6.83 lb
Box LxWxH: 8.375"x 11.625" x 15.625"
Warranty: Limited 3-Year Warranty
RECIPE
Servings:
5 cups (1.25 L)
Ingredients:
1/2 small leek, light green and white parts only, sliced lengthwise with root end intact
3 medium zucchini, about 1-1/2 pounds (680 g), trimmed
1 medium carrot, trimmed
3 ounces parmesan
2 tablespoons unsalted butter
1 cup frozen peas
1/2 teaspoon kosher salt
1/4 teaspoon freshly ground black pepper
2 tablespoons mint leaves, torn
2 teaspoons fresh lemon juice
Instructions:
Assemble the Cuisinart PrepExpress™ with the Slice/Ribbon Cone and Angled Feed Tube. Slice the leek. Reserve. Replace the Slice/Ribbon Cone with the 9mm Shred/Spaghetti Cone and shred the zucchini. Replace the 9mm Shred/Spaghetti Cone with the 3.0mm Shred/Spaghetti Cone and shred the carrot. Reserve the shredded zucchini and carrot together. Shred the Parmesan. Reserve.
In a large skillet, heat the butter over medium-high heat. Once butter melts and starts to foam, add the sliced leek. Reduce heat to medium and cook, stirring constantly, to soften, about 5 minutes. Add shredded zucchini, carrot, Parmesan, peas, salt and pepper. Stir and warm until the cheese is melted, about 5 minutes. Remove from heat and add the mint and lemon juice.
Taste and adjust seasoning as desired. Serve immediately.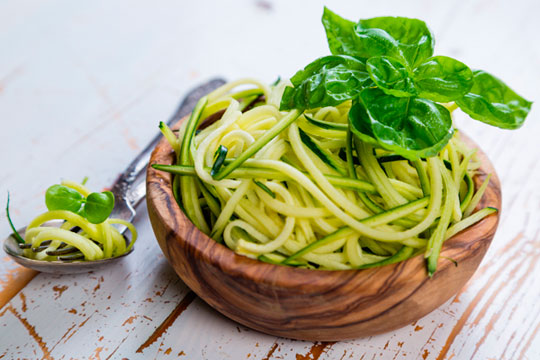 VIDEOS